Last Updated on December 14, 2022 by Charles Wilson
When I started my journey, I had close to zero knowledge about buying a wood lathe. But fortunately, my first lathe was Rockler Mini- A great beginner lathe that served me very well for a good few years.
But as my skills improved and ambitions grew, I found it just didn't have a powerful enough motor to cope with some of the demanding tasks.
So, I researched various machines in the price range that I could look at and included customer service as an essential consideration. And that's when I upgraded to a trade-rated Jet 1221vs, which is an impressive machine.
Now, let me help you with this buying guide before considering buying a wood lathe for your workshop, whether it's a brand new or garage/yard sale or anything under your budget range.
The Rule of Thumb for buying a wood lathe:
These are three fundamental questions that need to be asked before buying any wood lathe.
1. What project do you want to turn?
You can do several turning projects in a wood lathe. For instance, pens, bowls, platters, ornaments, chess pieces, lidded boxes, coffee mugs, tool handles, and the list goes on. I mean, you can come up with almost any idea as an experiment too.
You can go to a club meeting or join a guild to try a few projects out and know what attracts you the most, so you have a point to start. But, if you are somewhat experienced and already have feelings of what you gravitate towards, then it's time to set the budget.
2. What is the Budget?
Always remember that the lathe is not the last thing you are going to need. The lathe is there to give you the room and rotate the workpiece at your preferable speed. It's more like the engine of the car. You don't just start the car and expect it to take you to the destination.
So, no matter the project, you'll need to score the best woods for woodturning, buy accessories, and woodturning tools to help you mount and turn on the lathe.
That being said, the accessories are going to be your navigator, like how do you want to turn and shape the blanks. So, the budget combo should consist-
The lathe
Woods
Turning Tools (chisels, gouges)
Grinding tools
Jaw chucks
Dust extraction
PPE
Waxes
Now, you could have free access to the woods, but that's not going to be the case always. So, keep an eye on your surroundings for scoring woods.
3. Can you grow with the wood lathe after buying?
After deciding the budget, this is time to fill out the last blank, and that is- if the lathe has the room for me to grow. We often don't consider this while buying a new wood lathe.
But think, what would you do if you want to make something even more significant later on? How do you want to develop your turning skill? What project can you move on to when you have the skills and the tools. I know that's a much more difficult prediction to make.
So that brings us back to the budget. As with many other tools and machinery, my advice would be to get the best you can afford out of the biggest you can fit into your workspace. Get the biggest lathe possible even if you don't want to turn bowls. One day you will have fun.
A big lathe can turn small things, but not the other way around, of course, so your investment will last longer. Now let's see what are the feature you should consider before buying a wood lathe.
11 Major Features and specifications To Check Before Buying
Some features may become beneficial as your skills develop, such as a swiveling headstock (for turning bowls larger than the ordinary swing distance above the bed-ways) or a reverse gear perhaps. Let's see what the important things you should look at before buying a wood lathe are.
1. Size Consideration
The very first feature you should look at is the overall size of the wood lathe that will determine your project limit, and you have three options in the market.
Full-size
First comes the standard professional full-size wood lathe that will allow you to grow as high as possible. You can mount any project like- large bowls, platters, big furniture legs, any unbalanced chunk of woods, I mean anything.
Midi Lathe
A good-quality Midi Lathe could be a worthy option to choose between unless you need the extra swing capacity like a full size. But you can turn 12 to 14 inches bowls with these lathes quite comfortably as they have a decent Horsepower and adequate torque while working at lower rpm.
Mini wood Lathe
Mini wood lathes are about 8" swing over the bed with 12" to 14" between the centers. If the project is only small items like pens, pots, candlesticks, then a small bench-top unit will be enough. But if the need arises and you want to go high, you need to upgrade to a bigger size.
2. The Construction
Weight
Remember, vibration is the most common problem that woodturner faces. So, check if your lathe has the weight it needs to sit firmly during any work. Without the proper weight, it can not handle the unbalanced logs. Besides, I have seen lathes vibrating without even mounting anything on it.
So, the heavier the lathe is, the more it can take the unbalanced woods.
Materials
The most common type of material used in the wood lathes is cast iron. It is great at absorbing the vibration and that's why most of the lathes are made from Cast Iron. You can also see materials like- steel or stainless-steel bed with cast iron legs. These lathes are much more efficient at dampening vibrations.
3. Motor
Check out how much horsepower the motor of your lathe can supply. This is the engine of your wood lathe, so it is one of the most vital features to consider. Check the power requirement to see if it would be enough.
My Rockler mini produces ½ HP, just like any other typical pen making small lathes. They will bog down if you push them to handle your bigger projects. It can happen within the capacity that the lathe is supposed to have. So, don't be surprised. The ideal HP to go with is a minimum of 3/4.
4. Swing Capacity
Okay, so what size of the wood can you mount on the lathe? How much capacity your wood lathe will have? That depends on the measurement of the bed swing and the distance diameter between the headstock and tailstock end.
You might also want to consider the swing over the tool rest if you need to put the tool rest directly beneath the logs. I am coming to that later.
5. Spindle Thread Size
It is imperative to know the size of the headstock spindle thread. The larger the diameter of your spindle, the more rigid it will be for the bigger work. And you need to know the thread size of your spindle to get the accurate chucks and faceplate from aftermarkets.
Spindle thread size is determined by the diameter first, then the threads per inch. The most common thread measurement is 1" x 8 TPI. However, the fewer commons are ¾" x 10 TPI, 1" x 10 TPI, 1" x 12 TPI, etc.
If you are to buy a second-hand lathe that has a smaller spindle than 1 inch, then it's going to give you a hard time, so, you might want to walk away from that.
6. Spindle Bore
This is the hole that goes all the way through the spindle. It will determine what size knockout bar you can use to knock out the centers and what type of vacuum chuck adapter you can buy.
Lathes that are direct drive don't have a spindle bore. You can still use this, but this makes life a bit difficult during knock out the centers.
7. Morse Taper
You can see the morse taper at the end of your centers and accessories that fit inside the spindle and the tailstock quill. They will go in with a friction fit and are usually knock back out.
There are three common types of morse taper-
Morse taper one: Only used in very small mini lathes. I would not recommend getting a mini lathe with #1 MT unless you are turning only pens. Aside from that, it's hard sometimes to find them available in the aftermarkets.
Morse taper two: #2 is the standard regular taper size for any wood lathes from Mini to Full size. As most of the standard lathes use a #2 MT taper, so you can use the centers and mandrel on any lathe later on, if you want to upgrade.
Morse taper three: Okay, #3 MT taper is not that regular. It is used for particular purposes, like huge bowls or any other industrial works. The accessories are hard to find also.
8. Drive and speed system
Belt driven: Wood lathes that come with an AC motor will require you to change the belt to different pulleys in order to change the speed. They are referred to as "speed lathe" instead of "variable speed lathe."
Variable or EVS: Electronic Variable Speed wood lathes have a DC motor and a switch or knob to control the speed, so you don't need to change the belt manually.
A significant feature that changed the game for me when I upgraded was electronic variable speed control. My first lathe had five speeds, adjusted by opening the headstock, loosening the pulleys, moving the belt, which all took time, and became a frustration when moving between stages of a project.
With variable speed, I can adjust the speed without stopping the lathe. It's a huge benefit. This is the most convenient feature of the modern wood lathes when it comes to turning bowls.
Reeves Drive: These are variables too, but there are different opinions among the turners. However, reeves drive requires more maintenance and frequently changing of the belt. You will see a lever with the headstock to change the pulleys for different speeds.
DVR or VFD drive: There are lathes with Digital Variable Reluctance motor. It's useful for maintaining a non-stop speed with close to zero power loss.
You can also see a VFD or Variable Frequency Drive wood lathe that allows you to use a 3 phase motor on a 1 phase power. This is for producing excellent torque when you are turning on low-speed.
9. Some Headstock Features
Reverse Switch: The reverse is an extra advantage feature to have. Especially when you are working with a bowl, sanding is kind of a must to give the finishing polish on the surface of the workpiece.
Spindle Indexing and Lock: You can lock the spindle in various positions to create any pattern or flutes. Most of the modern standard lathe has an Indexing option. You can also lock the spindle and remove items that seem too tight.
Sliding headstock: Sliding or rotating headstock is another excellent feature for outboard turning.
Digital Readout: You can see what speed you are turning the wood lathe with a DRO (digital readout meter). This is not necessity but, it's good to have one.
Extended spindle column: This is to allow more access around the back of a mounted workpiece.
Remote control for emergency stoppage: It can be dangerous sometimes while reaching around a spinning log to stop the machine. But, with a remote control stop, you can do it by maintaining a safe distance.
Handwheel: This lets you rotate the spindle when the lathe is turned off.
Door to belt: The pulley door needs to be user friendly to make the speed changes more convenient.
10. Quality Tailstock
Tailstock supports the more elongate workpiece to hold and spin tightly so it doesn't fly off of the bed, giving you a smooth rotation. So, it's a support feature. You can slide it and move towards and away from the headstock.
However, the most essential feature of the tailstock is the quill. It moves in and out to bring the support you need and help you during drilling and boring. See how long your quill can travel freely and smoothly. Also, check if it has a self-ejecting feature.
11. Banjo and Tool Rest Quality
A versatile banjo will accept multiple sizes of tool rests beside the default one. So, check if it can lock down firmly and can move to reach everything it needs to get. You may need to alter the tool rest in order to work on multiple projects. If the banjo is not friendly to that, you might need to change that later.
You can also change the cast iron tool rest to a stainless-steel to avoid the catches. The plain surface of the stainless steel will ensure smooth movement of the tools over the tool rest so you can avoid catches.
Four Powerful Wood Lathes I Would Recommend
I have used quite a few wood lathes in my journey of woodturning till now. I have three lathes in my workshop (including a metal lathe) where I spend my leisure time. As a machinist, I know what makes a wood lathe great. So if you are serious about buying a wood lathe that will last longer, giving you the best service, I strongly suggest checking these four units.
Disclaimer: As an Amazon affiliate, I may earn a small percentage from qualifying purchases. This means no extra cost to you. I will only promote products that give the best values.
1. Grizzly G0766: Best heavyweight at a low cost
22″ swing and 42″ between the centers
Motor: 3 HP, 220V, 3-phase, 8A
Required power supply: 220V, single-phase, 20A
RPM: High: 100-3200 Low: 100-1200 Variable speed
Reverse and Forward
Spindle taper: #2MT
Spindle thread: 1¼" X 8 TPI RH
Swing over banjo: 18″
Swing over tool rest: 16"
Tool Rest: 14″
Weight 584 lbs
Warranty: 1 year
2. Jet JWL 1221vs: Best among all the Midi
12″ swing and 20-1/2″ between centers
1 HP, 115V, Recommended Circuit Size (Amps.)10
Spindle Taper: MT2
Spindle Bore: 3/8″
Indexing position: 24
Spindle Thread: 1″/8 TPI
60-3600 RPM variable speed
Forward to reverse
Weight: 136.4lbs
Warranty: 5 years
3. Delta 46-460: Closest Alternative For The Jet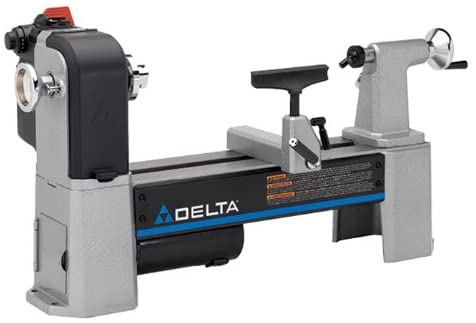 12.5″ swing and 16.5″ between centers
1-HP, 1-Phase, 120V, 60-Hz, 1725 rpm motor
Speed: 250-700, 600-1,800 and 1,350-4,000-RPM
Electronic variable
Head and Tailstock Taper: #2 MT
Drive spindle: 1 inch -8 RH TPI thread
Forward and Reverse
Weight: 97 lbs
Warranty: 5 years
4. Rikon 70-150 VSR
12.5″ swing and 20″ between centers
1-HP, 1-Phase, 120V, 60-Hz, 2,900 rpm motor
Speed: 250 – 750, 550 – 1,650, 1,300 – 3,850
Electronic variable
Head and Tailstock Taper: #2 MT
Drive spindle: 1" x 8
Forward and Reverse
Weight: 95 lbs
Warranty: 5 years
Final Thoughts
I want to remind you once again, that it's crucial to build your budget around not just the lathe itself, but also the other tools and accessories you may need to get you started. For instance, Gouges, and something to sharpen the tools, could be a chuck and some jaws for it, and the list goes on.
Always go for a full-sized or at least a Midi lathe than you think you will ever need. You can turn small things on a large lathe, but you cannot turn big with a small lathe. People typically start with a mini lathe only to lament their short-sightedness, and soon they outgrow it.
If you don't know whether you would like turning or not then go for anything on the budget. Get into a club or guild to spend some time on other machines. You will understand what you want and like.
That is all I had to say and I hope this guide will help with your buying decision.
Turn Big, Turn Safe. Welcome to the turning world!